OBJECTIVES AND OUTCOMES
The overall objective of the programme is to provide delegates with practical managerial skills in order to perform their management duties effectively.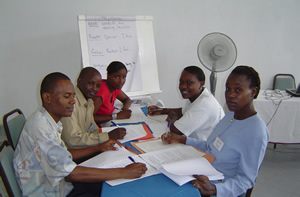 Each module has its specific outcomes relative to the subject matter.
MATERIAL
The course material is relevant to modern managers and supervisors, and the challenges they face in their daily duties. Exercises and role-plays are practical, realistic and relevant to the actual work environment. Delegates will be able to implement the skills acquired and use the knowledge gained immediately after each module. During the programme delegates will be expected to complete assignments, which will benefit both their managers and their staff.
DURATION
Modules should ideally be completed over a 10 - 14 month period. It is advisable that the modules be completed sequentially to ensure the best benefits and results. However, the modules are designed as 'stand alone' courses with their own objectives and outcomes and can therefore be conducted according to specific needs and circumstances.
TARGET MARKET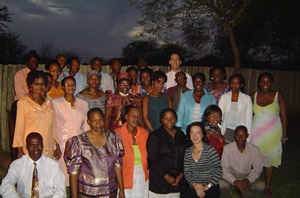 This modular programme is targeted at middle, junior and first line managers, as well as supervisors and staff about to be promoted to a supervisory position.
INSTRUCTORS
The course instructors for these modules not only are experienced in the training field, but also have managerial experience in the hospitality industry. They are therefore able to relate well to the delegates and are able to answer almost any questions which may arise.
EXAMPLES OF FEEDBACK
Examples of feedback from delegates who have already completed the course:-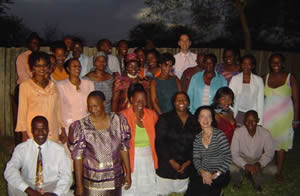 "I never knew that a manager has to know so much - these courses really helped me a lot."
"It made me realise how much responsibility a manager really has."
"It was very hard work, but now I am glad I pushed through."
"I have a lot more confidence now than before."
"I think like a completely different person now that I have done all the courses."
"I just wish I could have done this programme years ago."
"To be on this program was a real privilege."
"I don't have enough words to say thank you for what I've learned."
"This programme was the best I've ever attended!"
"For the first time in my life, I understand what supervision and management is all about."
"Everything was explained in a straightforward and simple way - I now really understand what is expected of me."
"I've attended many courses in my career. This programme was the most practical I have ever attended!"
MODULES
Module 1:
THE ROLE, PURPOSE AND RESPONSIBILITIES OF A MANAGER
The role of the manager: company, staff, suppliers, customers/guests
The purpose and responsibilities of a manager
Goal setting: personal and departmental
Principles of Management: Planning, Organising and Controlling
---
Module 2
DEVELOPING CONFIDENCE AND SETTING GOALS AS A MANAGER
Paradigms and Management: Recognising, using and changing paradigms
Developing confidence and esteem
Developing effective attitudes in yourself and staff
Managing moods or self and others
Avoiding common pitfalls
---
Module 3
MOTIVATION AND LEADERSHIP IN THE MANAGEMENT ROLE
Self-motivation
Two practical theories of motivation
Methods to motivate staff
The manager as a leader
Power and using it productively
Four leadership styles and using each correctly
---
Module 4
MANAGEMENT COMMUNICATION 1: PERSONAL and INTERPERSONAL COMMUNICATION
Self-communication
Identifying your communication style and those of others
Recognising the styles and adapting communication accordingly
Principles in personal presentation
Body language: using it effectively
Developing listening skills
---
Module 5
MANAGEMENT COMMUNICATION 2: PROFESSIONAL LANGUAGE
Eliminating negatives in language
Developing a precise style of language
Giving instructions, feedback, praise and recognition effectively
Principles of negotiation
---
Module 6
MANAGEMENT COMMUNICATION 3: BUSINESS WRITING
Objectives of business communication
Writing clearly and concisely
Principles in business writing
Business letter writing
Writing business reports
---
Module 7
MAXIMISING MEETINGS
The cost/benefit ratio of meetings
Types of meetings
Preparing and planning for a meeting
Principles in presenting a meeting
Managing and controlling meetings
Closing meetings
Writing minutes of meetings
---
Module 8
ASSERTIVENESS AND EFFECTIVENESS
Understanding the different types of responses and behaviours and their implications
Understanding the principles of assertiveness
The role of self-confidence in assertiveness
The role of control and organising in assertive
Giving instructions and communicating assertively
---
Module 9
MANAGING STANDARDS, QUALITY AND PRODUCTIVITY
Analysing jobs
Setting standards for the area of responsibility
Analysing quality for the job role
Measuring productivity
Measures to improve standards and quality within the job role
---
Module 10
PRESENTATION SKILLS
organising material
preparing a presentation and equipment
understanding an audience
using a professional speaking voice
closing a presentation
dealing with questions
practical presentation session and feedback
---
Module 11
TRAIN-THE-TRAINER
Why and how people learn
Overcoming barriers to learning
Planning training
Choosing the correct method of training
Organising training
Managing and controlling training
Practical training session and feedback
---
Module 12
BUILDING AN EFFECTIVE TEAM
Benefits of a productive team
Team dynamics
Team myths
Roles and responsibilities of team members
Identifying and solving team problems
Building a productive team
---
Module 13
TIME AND STRESS MANAGEMENT
Identifying positive and negative stressors and their results
Skills in dealing with stress
Common time wasters
Delegation skills
Getting organised
Prioritising and dealing with procrastination
Skills in dealing with distractions and interruptions
Understanding and managing your work-style
---
Module 14
DEALING WITH PROBLEMS AND CONFLICT
Understanding and developing analytical skills
Creative problem solving techniques
Identifying and assessing conflict-resolution styles
Developing objectivity in conflict situations
Negotiating a win/win resolution in conflict
Dealing with difficult people
---
Module 15
SERVICE LEADERSHIP
Understanding service
Understanding guest and employee needs
Developing an understanding of service expectations of guests from international cultures
Identifying excellence in the service process for different departments/products
Creating a service oriented team
Identifying opportunities for excellence in service
Rewarding service excellence
---
Module 16
MARKETING AND THE MANAGER
Defining marketing
Defining selling
Products and services
Branding
Using marketing tools
Planning and running a promotion
---
Module 17
BUSINESS AND THE LEGAL ENVIRONMENT 1
The Labour Relations Act
Collective Agreements and bargaining Councils
The Employment Equity Act
The Skills Development Acts
---